North Carolina has one of the highest rates of food insecurity in the nation. More than 600,000 residents experience hunger on a daily basis. One impact of the pandemic is that hunger rates have continued to increase dramatically. In Wake County alone, food insecurity is nearly 14% higher than the national average.
Your donations support the following ministries: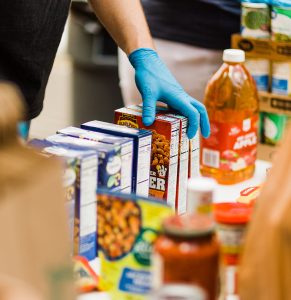 Food Pantry
Hope's Food Pantry, located at the Raleigh campus is a place where
people needing food assistance are welcomed, prayed for, and given the opportunity to shop for items that they need. The pantry meets nutritional needs of the community, but it's about so much more. Those who come to the pantry leave knowing that they are loved and cared for.
BackPack Buddies
Children from food-insecure homes rely on school meals during the week to meet their nutritional needs. On weekends or holidays when they are not in school, many will go hungry. The BackPack Buddies ministry fills backpacks full of donated food items and drops them off at partner schools to be sent home with these kids on weekends to ensure their
nutritional needs are being met.
Galley Grocery
A food desert is an urban area where there is little access to fresh food. Galley Grocery was established to provide healthy foods at low cost in the middle of a food desert in Southeast Raleigh. Galley Grocery is a Ship Community Outreach Initiative and is subsidized by local churches.
To learn more about Galley Grocery, click here.
Raleigh Campus
821 Buck Jones Road
Raleigh, NC 27606

• Canned Ravioli or Chili
• Canned Soups (pull-tabs preferred)
• Canned Tuna or Chicken
• Canned Vegetables
• Canned Fruit
• Dried Beans
• Top Ramen
• Mac-n-Cheese
• Hamburger Helper
• Pasta
• Rice
• Spaghetti Sauce
• Diapers (size 5 and 6)
• Low-Sugar Cereal
• Pancake or Waffle Mix
• Muffin Mix
• Oatmeal
• Cereal or Snack Bars
• Baking Items
• Condiments
• Hygiene Items (shampoo, conditioner, body wash, wipes)
• Household Items (cleaning supplies, laundry soaps)
• Paper Items
(paper towels, toilet paper)
Make it easy! Purchase these items from any online retailer and ship directly to our distribution center with the information below:
attn: Local Hope
1000 Perimeter Park Drive Suite K
Morrisville, NC 27560
WITH OUR FOOD PANTRY + DISTRIBUTION CENTER
Questions about the Food Pantry? Contact us!