July 2022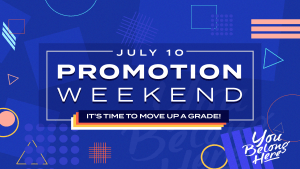 This is a special weekend for our students as they move up a grade in school and in our ministries! Most of our students will be moving up a grade, but will stay in their current ministry. However, our 5th grade and 8th grade students will be making the big move to our Middle School Ministry (MSM) and High School Ministry (HSM). We hope you'll join us on July 10 at all of our campuses to celebrate all of our…
Find out more »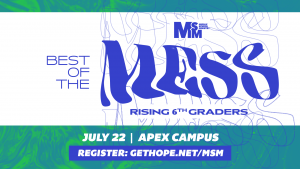 Best of the Mess is a MESSY memory-making event for 2022-23 6th grade class of 2029 and their parents! The evening will be full of laughter, gagging, and MESS. Come out and make some memories Friday, July 22 from 6:00-8:30 p.m. Join us at the Apex campus, located at 2080 E. Williams Street.
Find out more »
August 2022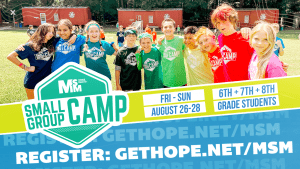 This is a grow event for students to take next steps in their relationship with Jesus Christ and build community with their small group friends and leaders. There will be high-energy sessions, homemade meals, small group bonding times and fun activities throughout the weekend. The Early Bird Registration fee is $159 and available March 6 - July 31. Regular Registration is $199 and available August 1 - August 14.
Find out more »
+ Export Events
Click Here for Apex gym schedule (including pickleball and basketball).